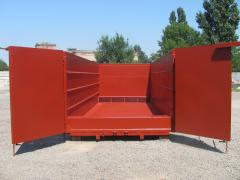 The problem of efficient organization of solid waste management is very important in our time, and the solution of this problem is necessary not only for the safety of the environment, but also for human health. Removal of solid waste garbage using multilift type hooklift containers is a step to solving this problem. This problem is paid a very little attention, and solid wastes are often disposed in improper way, ie without using metal containers. Moreover, this problem is considered less important than the problem of the proper disposal of other types of waste, such as radioactive waste. However, the danger and the potential threat of solid waste is often undervalued, so the use of open-top hook lift container is a new idea in the garbage disposal.
First of all, it should be noted that solid waste can pose a serious threat to human health and the environment. It's not a secret that today all industries tend to produce a product that can be recycled or treated with minimal damage to the environment. Therefore, many leading companies in Europe and small business use in the manufacture special metal containers and forklift containers.
Nevertheless, it is almost impossible, at least at the present level of technology, to eliminate the use of materials and products that contribute to the increasing of solid waste.
Unlike some other types of waste, solid waste have certain characteristics that make them very dangerous to the environment and can have a significant impact on human health. Firstly, it should be noted that the solid waste can not be processed naturally and it leads to the accumulation of solid waste. In practice, this means that this waste should be allocated at properly constructed landfills and people must take steps to prevent the spread of the waste or its negative impact. To avoid the accumulation of solid waste and their distribution, it should be placed in special bins that are designed specifically for the collection and transportation of MSW .
Furthermore, it should be noted that improper disposal of solid waste also increases the costs of protecting the environment in the local community, while utilization of solid waste using garbage containers can make using cash more efficient and improve the environmental situation. In fact, the ignorance of the problem of improper disposal of solid waste leads to a gradual deterioration of the environmental situation. In our time, when scientists engaged in the problems of ecology, every company that uses waste metal containers, skip loader containers, storage tanks, boxes, containers for transportation of waste actually helps protect the environment.
Naturally, it is impossible to ignore this problem and, therefore, society needs to develop effective techniques and methods of utilization of solid waste using with a help of containers to minimize the negative impact of waste on health and the environment. Otherwise, this problem will become more and more serious that it can even lead to an environmental disaster if the proper disposal of solid waste will be ignored.Thus, taking to the consideration all the above mentioned it can be made a conclusion that in order to minimize the adverse effects of solid waste people should dispose it in a proper way using metal hooklift containers.