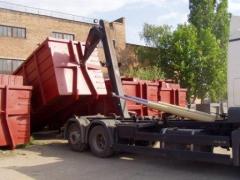 Waste disposal is only one of hundred different things that we do every day. But how to make sure that we do it in a proper way? What consequences could be if we carelessly throw our garbage anywhere, and didn't use special metal skip or hook lift containers for trash or garbage cans ?
Improper waste disposal method can lead to flooding, because it makes interfere with drainage. Waste that is thrown away in the water can also pollute water bodies and can lead to death of marine life, that is in the aquatic ecosystem. As a result, indiscriminate release of garbage into waterways can lead to unpleasant odors and toxicity. And this could be easily avoided if you take out the trash by special machines equipped hooklift containers (type "multilift") to landfills that are set aside for waste disposal. We throw garbage here and there, rather than to use the waste containers, without caring that people can step on it. Therefore we must learn how to properly dispose of our garbage .
When you buy metal garbage containers, tanks, bins, garbage skip or hooklift containers, you make positive steps to help the environment. Plastics, metals, wastepaper and some types of glass can be recycled at your local recycling center. Why not use a container to ship these products to places of recycling? Thus they can be reused and returned to customers, and ultimately they will not harm the environment.